Saka the Gorilla
Mini Game Reward: 70 coins, 125 exp
House Collect: 200 coins, 600 exp
Food: Blue Berry x 2
Clears: Weed
Action count: 30
Region: Jungle Isles
Buy Now: 25-50 crystals
Notes: Once you build Saka a home, you can touch that home and play a Match 3 game. It is very easy, fast to play, and a good way to earn coins.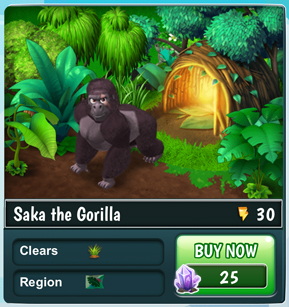 Ad blocker interference detected!
Wikia is a free-to-use site that makes money from advertising. We have a modified experience for viewers using ad blockers

Wikia is not accessible if you've made further modifications. Remove the custom ad blocker rule(s) and the page will load as expected.